Language Services
Partnering to provide communication solutions that speak to your workforce
Are you providing an environment where your workforce can understand and be understood in their preferred language? How much of your workforce is limited English proficient (LEP)? Deaf or hard of hearing?

Our language services team helps provide the tools, resources, and education to foster inclusive care in the workplace. When you partner with Ascension Employer Solutions and our local market care teams, you will benefit from a program that is:
Compliant with Civil Rights and Americans with Disabilities-related legislation
Aligned with CMS and Joint Commission language access requirements, i.e., use of medical interpreters
Mission-focused to provide healthcare that leaves no one behind
The result of continuous process improvement of Ascension's operationalized approach to create a best-in-class Language Services program
Language Services are provided through:
Access to interpreters
Onsite at Ascension locations through in-person, video remote, and phone interpretation
24/7 Ascension Online Care through integrated video and phone interpreting solutions
Written document translations
COVID-19 Employee Screening Tools
Infectious Disease Signage
Healthcare services related marketing and communication materials
Clear communication matters
Good dialogue leads to good health - our Language Services experts can help your employees find the right care
Understanding the numbers
According to the 2017 American Community Survey via the U.S. Census, LEP persons makeup of the U.S population 8.6% per 5 year census estimates
Improve your engagement
We believe clear communication matters to good health and engagement in health programs and services.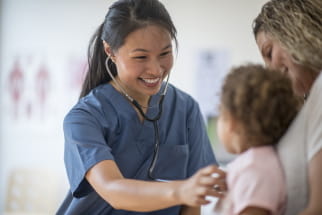 Meeting your employee's needs
Ascension can provide Language Services in more than 200 languages across telephonic and written translation capabilities to meet any population's needs.